October 27, 2009
Chapter Three just launched a site for DML Central, a site dedicated to "promoting and networking collaborative efforts to understand and assess the participatory ways in which digital media are transforming youth learning practices and lifelong learning opportunities." Funded by the MacArthur Foundation's Digital Media and Learning Initiative, DML Central was the second of two projects we did with the Digital Media and Learning Research Hub team, the first of which was an internal intranet site created to help researchers collaborate on said projects. On both projects, Chapter Three facilitated the design and development process, guiding the team from strategy, to design, to development, to launch.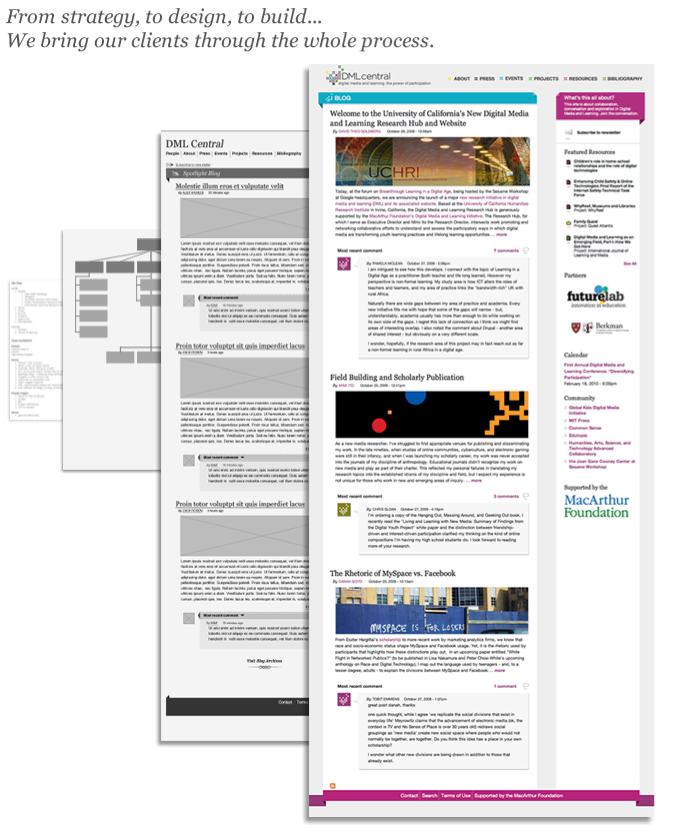 How we did it
Kick-Off
We started with a kick-off meeting where we sat in the room with the DML central team, got to know one another, and spent the majority of the day talking about the scope of the project, the key target audiences, and the goals of both the site users and the producers(DML Central). We left that day with several user scenarios and site specifics, enough to go forth and create the site map and start to outline the key functionality.
Architect
We met weekly to review deliverables. The first was the site map, followed by wireframes outlining all of the major pages on the site. We employed a technique known as grey boxing which is a slightly advanced version of a wireframing. While still grey scale, grey boxing allows for early design decisions to begin to be made about contrast, layout, and typographic hierarchy.
Design
After two rounds of wireframes we moved on to the final design phase where we produced 15 pages of final comps. While some pages re-used elements, care was given to each major page, focusing on layout and rhythm, making sure that no details were missed on the execution of all the major components of the site.
Development
Upon final design approval, the design team met with the development team to discuss functionality, usability, and details that could easily fall through the cracks. The development team went to work in a sprint like fashion to deploy the site in a few short weeks, producing a final product that not only looks good, but is easy to administer from the back end by the DML Central staff.
The site is now live at www.dmlcentral.net. Take a look.
Thanks to the DML Central team for a great collaboration.